Revolutionize Your Marketing with SmartEngage's Marketing Automation
SmartEngage empowers your brand with a full suite of marketing automation services that streamline your marketing efforts, save you time, and boost your ROI.
Get Started for free!
Automation
Unveiling a Comprehensive Array of Marketing Automation Solutions
Cross-Channel Sequences
Create powerful rules and sequences that follow the triggers and actions you specify across Email, SMS Text Messages, Facebook Messenger Chat Bots and Web Push Notifications easily.
Easy Automation Flow Control
Simplify your marketing automation with SmartEngage's Easy Automation Flow Control. Our user-friendly interface puts you in charge, allowing you to design and manage your automation flows with ease.
Cross-Channel Sequences
where innovation and multi-channel engagement unite! Harness the combined potential of Email ✉️, SMS 📱, Facebook Messenger 💬, and Web Push Notifications 🌐.
Complete Control
SmartEngage gives you complete control to build sequences that run your business 100% on autopilot, even when you are asleep.
Timeless & Unlimited Possibilities
Discover timeless and unlimited possibilities with HTTP POST automation. Set it, forget it, and watch it work effortlessly. It's your secret to seamless, always-on automation.
Intelligent "IF" Conditions
IF Triggers and Conditional blocks dictate what happens in your automation sequences. You decide what messages get sent and to whom receives them.
Subscriber Attributes
Shape your automation sequences with intelligent "IF" Conditions. Determine message delivery based on triggers and subscriber attributes, putting you in control of who receives what, and when, all with precision automation powered by subscriber attributes.
Subscriber Type
Define message delivery based on subscriber type (email, SMS, Facebook) for precise and customized interactions.
If Yes Or Not
Craft dynamic automation flows that pivot on "If Yes" or "If Not" scenarios. Shape unique customer journeys with the power of tailored responses, bringing your automation to life with creativity and precision.
Extensive logical conditions
Go Advanced with your automation with "IF" conditions featuring "OR," "AND," or "NOT" options. Craft automation that mirrors tech-savvy development, giving you precise control over every step. Your automation, your tech-savvy touch.
Simple Automation Rules
Use rules to setup simple, yet powerful Triggers and Actions. Want to automatically remove that #sales_funnel tag after the subscriber completes a $conversion_purchase? This is how it's done!
Streamlined Automation
With "Simple Rules," you can streamline your automation processes. Set up triggers and actions with ease, simplifying complex tasks.
Efficient Tag Management
Automate tag management effortlessly. For example, automatically remove the #sales_funnel tag when a subscriber completes a $conversion_purchase.
Precision Automation
"Simple Rules" allow you to focus on the essentials. Create precise and targeted automation sequences to achieve your marketing goals.
Time and Effort Savings
Save time and effort with rule-based automation. Let the system handle routine tasks, while you concentrate on the core strategies that drive results.
Conversion Tracking
Track every purchase your subscriber makes and instantly know the Lifetime Value (LTV) of that person. Setup which URL is your conversion trigger and let SmartEngage do the rest as it automatically accounts for any and all conversions across your website(s).
Precision Purchase Tracking
With "Conversion Tracking," you can accurately monitor every purchase your subscribers make. Instantly gain insights into the Lifetime Value (LTV) of each individual.
Automated Conversion Detection
Easily set up the URL that acts as your conversion trigger, and let SmartEngage take it from there. The system automatically tracks and accounts for all conversions happening across your website(s).
Comprehensive Insights
Access detailed data, including specific dates and the total number of conversions within your selected time frame. Stay informed with in-depth insights to make data-driven decisions.
Data-Driven Decision Making
"Conversion Tracking" empowers you to make informed, data-driven decisions. Understand your subscribers behavior and make strategic moves to enhance your marketing efforts.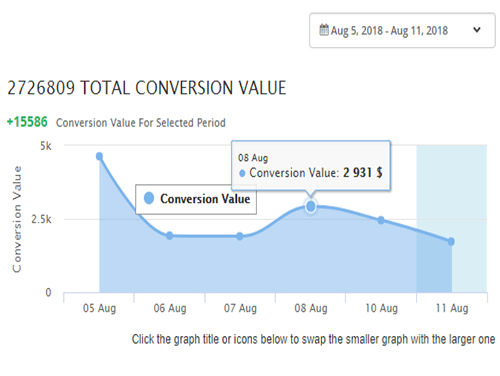 Ready to get started?
Increase your Sales, More Leads, Boost your Profit, for free!